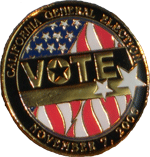 Rio Dell Ballot 2016 - polling site Monument Middle School Nov. 8th 7am - 8pm
I think this year I will be voting out of fear. Fear of whomever scares me the least. This is going to be a tough one! Steve Wolff
2016 Race to the Whitehouse

| | |
| --- | --- |
9.1.14 Three candidates for three open city council positions; incumbent Gordon Johnson, Timothy Marks and Debra Garnes. Long time council members Julie Woodall and Melissa Marks are not running for re-election.
11.7.12 The election results are in and Measure J fails to pass by an even wider margin then the last attempt. There is no question that Rio Dell needs better streets, that has never been in dispute, but clearly the voters have no confidence in the city or their administration of taxpayer funds. In addition to the $2 million dollar street repaving bond measure failure, the unopposed incumbent council members failed to get even a simple majority of votes in what can be described as a "no confidence" outcome. Long time council member Jack Thompson only received 46.1% despite having no opposition; incumbent Frank Wilson also ran unopposed and received 49.9%.
The turn-out was pretty good with 928 voters in Rio Dell casting ballots; 490 of those coming in to the polling place and keeping the poll workers pleasantly busy all day.
10.14.12 There hasn't been an update on this page, obviously, for awhile now simply due to a lack of time and all of the needed work with the other pages. There is a very important election coming up that will include critical local measures as well as state and federal issues. Take a look at the nonpartisan voter information available at SmartVoter.org for details about all of the ballot measures and other information you may need. The city will try a second attempt at getting the $2 million dollar bond measure for street paving passed after it failed in the June election. The increased property taxes would presumably be used to pave a majority of the streets in Rio Dell but there will be no improvements funded, just paving. Normally, we could support bond measures used to pay for public projects such as street paving but in Rio Dell there is no confidence that the money will be used as it is intended. Take a look at my 12.31.11 Community Events posting about how Rio Dell administers public projects and see if you still have any confidence in the city. The recently released Investigation Report into public works details further how projects such as street paving and the water infrastructure upgrade are used to personally benefit certain select members of the community while everyone else gets to pay for it. Absolutely nothing has changed in Rio Dell despite the findings of "felony level embezzlement of city property" along with all of the other allegations that were substantiated. The city redacted the report to make it look like Hale was the only person involved and all of the other public officials names were removed but it is not hard to figure out who the report is referring to. The same players are still here and are still presumably enjoying the special favors described in the report (which only scratched the surface). There is no reason to believe that the city has suddenly changed its long standing history with missing tax money, city assets, special favors for cronies etc. Are you willing to pay more tax money for Rio Dell to administer after knowing its history? The definition of insanity is doing the same thing over and over again yet expecting different results.
-Sharon
6.7.10 We are busy!!! As many of you have guessed we try not to publicly endorse Issues or Candidates, since we work at the polls here in Rio Dell California. We try and present the facts as we can. It is up to our fellow Americans to make informed decisions! If you don't vote you don't count! That's the fact Jack!!! Steve :-)
Notably the US Debt has surpassed 13 Trillion Dollars = $13,000,000,000,000. The cost of war in Iraq and Afghanistan has surpassed $1.05 trillion. I saw the women in black still holding on down at the Humboldt County Courthouse. What a long time they have been doing that! Just Google it if you care to see all the people who have died or been wounded. I doubt we will be leaving either country anytime soon. We won't go to war with Iran or North Korea. We can't afford it, and I doubt China would loan us the money to spread freedom.
3.29.10 Nearly 1Trillion dollars for the Iraq and Afghanistan wars. Thats $1,000,000,000,000 = One Trillion Dollars of borrowed money much of which is borrowed from the communist country of China. To boot almost everything we buy comes from there. For all the environmentalists, conservationists, or any other American, movement, institution, etc. You may want to be learning to speach chinese, because it's their banks that holds the mortgage on America. They must be laughing their butts off everytime they loan us more money. Here what Uncle sam shows: As of 3.26.10 The Total Publc Debt Outstanding is $12,685,893,723,805.70
http://www.treasurydirect.gov/NP/BPDLogin?application=np
The audio clip above is from a City Council meeting on 4.4.06 in which resident Steve Harris discloses that Mayor Bud Leonard approached him and his wife in Mingo's to ask about and discuss confidential Grand Jury testimony, which happens to be very illegal. During the public presentation, Mayor Leonard responded with obscenities which concluded with him calling the Rio Dell resident and constituent an A$$hole. All of which was done from the Mayor's chair. The audio will be transcribed, word for word, and posted here. I apologize for the curse words but this is your Mayor in action demonstrating his character and respect for the citizens of Rio Dell. (Mayor Leonard is currently up for re-election).
Video of Estelle Fennell campaign at Rio Dell Volunteer Fire Department Online !!!
Video of Estelle Fennell at Fortuna River Lodge Online !!!
2.22.08 Estelle Fennell Challenges Incumbant Roger Rodoni
March 6th, 2006 Latest vote for our new Rio Dell City Manager Nancy Flemming was Unanimous. ..
2006/1107.04

Approve letter of support for Palco

re. Exemption of Underground Requirements (Action)
| | | |
| --- | --- | --- |
| City Council Rio Dell California | Yes | No |
| | | |
| Marc Barsanti | X | |
| Mike Dunker | X | |
| Bud Leonard | X | |
| Melissa Marks | X | |
| Julie Woodall | X | |
| | | | |
| --- | --- | --- | --- |
| Oct. 18, 2005 | Resolution No. 907-2005 Establishing Water Rates and Service Charges Pursuant to the Provisions of Ordinance No. 241 And Resolutions No. 888-2005 | | |
| | City Council Member | Yes | No |
| | Marc Barsanti | | X |
| | Mike Dunker | X | |
| | Bud Leonard | X | |
| | Melissa Marks | X | |
| | Julie Woodall | X | |
Aug. 9th, 2005
Appointment of Mayor Jay Parrish as City Manager
Yes
No
City Council Member
Marc Barsanti
X
Mike Dunker
X
Bud Leonard
X
Jay Parrish (Mayor)
Julie Woodall
X

These are the Votes we have verified by deposition. For the August 9th decision to make Mayor Jay Parrish City Manager. All Yes one No vote.

6-21-06 It's cost the city tens of thousands.

Rio Dell's June legal bills total almost $19,000 -Eureka Reporter

Also See Cronyism here in Rio Dell California

and Rio Dell Building Department Fraud

We have the other City Council members Depositions yet to be published. Mike Dunker told the City Council that what they were doing was against the law clear back in June. They did it anyway. Now they are billing the legal fees to the City.

Shameful -Steve -:(
City Council Rio Dell California by Sharon :-)